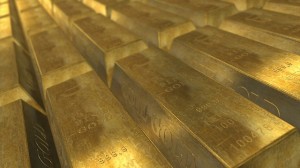 As the Fed's dovish signals faded Thursday, gold prices finished just under $1200. There is still some safe-haven demand for gold as Russia's ruble continues to slide.
Following their Wednesday statement, the Fed dropped their pledge to keep rates near zero for a "considerable time" and installed new verbiage stating that the U.S. central bank will be "patient in the beginning" to tighten monetary policy. That being said, the Fed flowered up the statement, saying that the "patient" language was consistent with its prior "considerable time" pledge. "The Fed statement does not imply an immediate rate hike. I think gold can stabilize between $1,180 and $1,200," said Mark To, Head of Research at Hong Kong's Wing Fung Financial Group.
The Federal Open Market Committee followed the Fed with their statement. The possibility of the central bank shortening the timeline on higher interest rates was bearish on gold due to its inability to provide a yield.
"The FOMC statement was deemed by gold market traders to be slightly bullish, judging from the modest gains seen right after the statement was released," said Kitco's Jim Wyckoff. He added that investors are "still very concerned about the Russian ruble's sharp drop this week."
Stronger stocks were suffocating gold and while the Federal Reserve's policy statement was softer than forecasted, the central bank's policies were kept intact. As Thursday's session progressed, gold and silver markets stepped down from their daily highs when crucial outside markets turned from bullish to bearish postures.
Spot gold was up 0.8 percent at $1,197.60 an ounce. On Wednesday, it fell as far as $1,183.73, its lowest since Dec. 1. US February gold rose 0.3 percent to $1,197.60 an ounce. Wall Street's biggest banks believe the Fed will continually tighten policy and hike the interest rates sometime in the middle of 2015. If so, gold will drop to its most recent low of $1,130. Prices should be supported by Indian and Chinese demand for gold by top consumers.