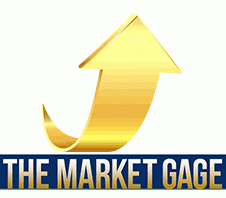 Gold's biggest week since 2011? Gold looks like it's headed for its biggest weekly rally in nine years driven by anticipation of another interest rate cut by the U.S. Federal Reserve and on investors fleeing to safe-haven assets because of a volatile equities market and coronavirus fears.
This morning's strong U.S. job numbers failed to put a dent in Gold's support. February's Nonfarm payrolls rose by 273,000, a huge jump over the forecast 175,000. The unemployment rate edged down to 3.5%. Gold stayed firmly above $1,680 on the news, but Dow failed to find support, falling 700 points at the opening. Normally, such strong job numbers would have been a stock market boon, but the knowledge that these numbers do not yet reflect the impact of the coronavirus on our economy rendered the data powerless as a lagging indicator.
The most active gold futures contract rose 1.5% Thursday to settle at $1,668 an ounce on Comex. The yellow metal advanced 6.5% in the first four days of this week and appeared headed for a new seven-year high. The April contract is currently at $1680.70.
"There is definitely scope for gold to test $1,700, although maybe it is a bridge too far this week, unless we get a shocking nonfarm payrolls," said Jeffrey Halley, senior market analyst at Oanda Corp., told Bloomberg. "Coronavirus turmoil next week will likely see gold get the momentum it needs."
U.S. stocks slid again Thursday, with the Dow Jones Industrial Average dropping 3.6% and the Standard & Poor's 500 Index sliding 3.4%. Equities were still higher for the week. Stocks had their worst week since the Great Recession last week but were bolstered by a surprise 50 basis point interest-rate cut by the Federal Reserve on Tuesday. Both lower interest rates and declining equities are typically bullish for gold.
The Fed's emergency rate cut was the first since 2008 and came amid mounting concern that the spread of the coronavirus will curb global economic growth. The CME FedWatch Tool shows 100% odds of another rate cut by the Fed at policy makers' next scheduled meeting on March 18. The tool showed the probability of another 50 basis point cut at 99.2%, with the chance of a 75 basis point cut at 1.9%.
Gold "is immune to the virus," Jeff Currie, Goldman Sachs's head of global commodities research, said in a note to clients earlier this week. And money manager Jeffrey Gundlach told CNBC that the price of gold will go to a record high against the dollar as the Fed cuts rates.
The global bond market rallied, with 30-year Treasury yields sliding below 1.5% for the first time.
The coronavirus, designated COVID19, has killed almost 3,400 people worldwide and sickened about 98,000. Most of the cases have been in China, where the outbreak started. The virus is a WHO-designated global health emergency.
May silver futures rose 0.9% Thursday to settle at $17.39 an ounce on Comex. Front-month silver futures gained 5.7% in the four days of this week after dropping 12% last week.
Spot palladium, a metal used primarily in autocatalysts, rose 0.1% Thursday to $2,545.31 an ounce. It is up a bit this morning at $2,547.22. The metal rallied 14% in February. Spot platinum decreased 1% Thursday to $866.30 an ounce. Currently, platinum has risen 32.96 to $900.51.