Frank Frazetta an American Artist/Illustrator 1928-2010 was and is an influential artist with his creations covering a variety of industries and media. You may be a big fan or not know his name but you have seen something he created.
Frank Frazetta was a prolific world-renowned American artist/illustrator. Born in Brooklyn, New York on February 9, 1928, by age 8, Frazetta was studying at the Brooklyn Academy of Fine Art!
His paintings and artwork are not just something you see but they grab your attention and amaze with the accurate details of anatomy and expression.
This will be a limited time offering in both BU and Proof. The Proof will be limited to 5,000 total in an acrylic etched case with the certificate information right on it which will come in a leatherette bag. "Frank Frazetta Death Dealer" and "Swordsman of Mars" are the first products for this collection.
BUY NOW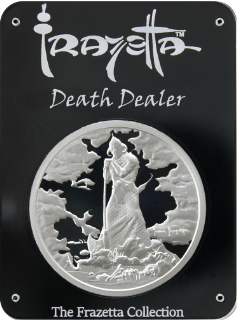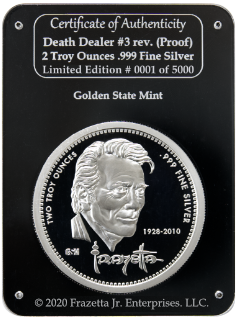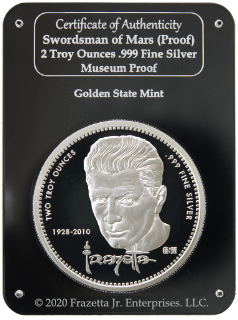 BUY NOW
BUY NOW
BUY NOW
BUY NOW
BUY NOW
BUY NOW
BUY NOW
At Golden State Mint we are always striving to improve our product to provide you with the best quality in Gold, Silver and copper bullion as well as continually creating new and interesting designs and offerings. We combined our precious metals with the great Frazetta paintings value

We are honored and excited to have the opportunity to offer a small keepsake to this incredible mans legacy.
"an Olympian artist that defined fantasy art for the 20th century." - Guillermo del Toro
Art is not just something to look at but a catalyst for creation in itself. The mastery of Frank Frazetta art has inspired countless creations in many media over the last 70 years.